Take your choir competition
to the next level
FeelitLIVE empowers you to bring your online and in-real-life audiences together to increase your choir competition's revenue and audience, while simultaneously delivering an immersive and engaging experience for everyone involved.
BOUNDLESS
Go hybrid, go global
Effortlessly convert your in-real-life competition into a hybrid event that attracts audiences worldwide and increases your brand awareness without taking up all of your time or breaking the bank.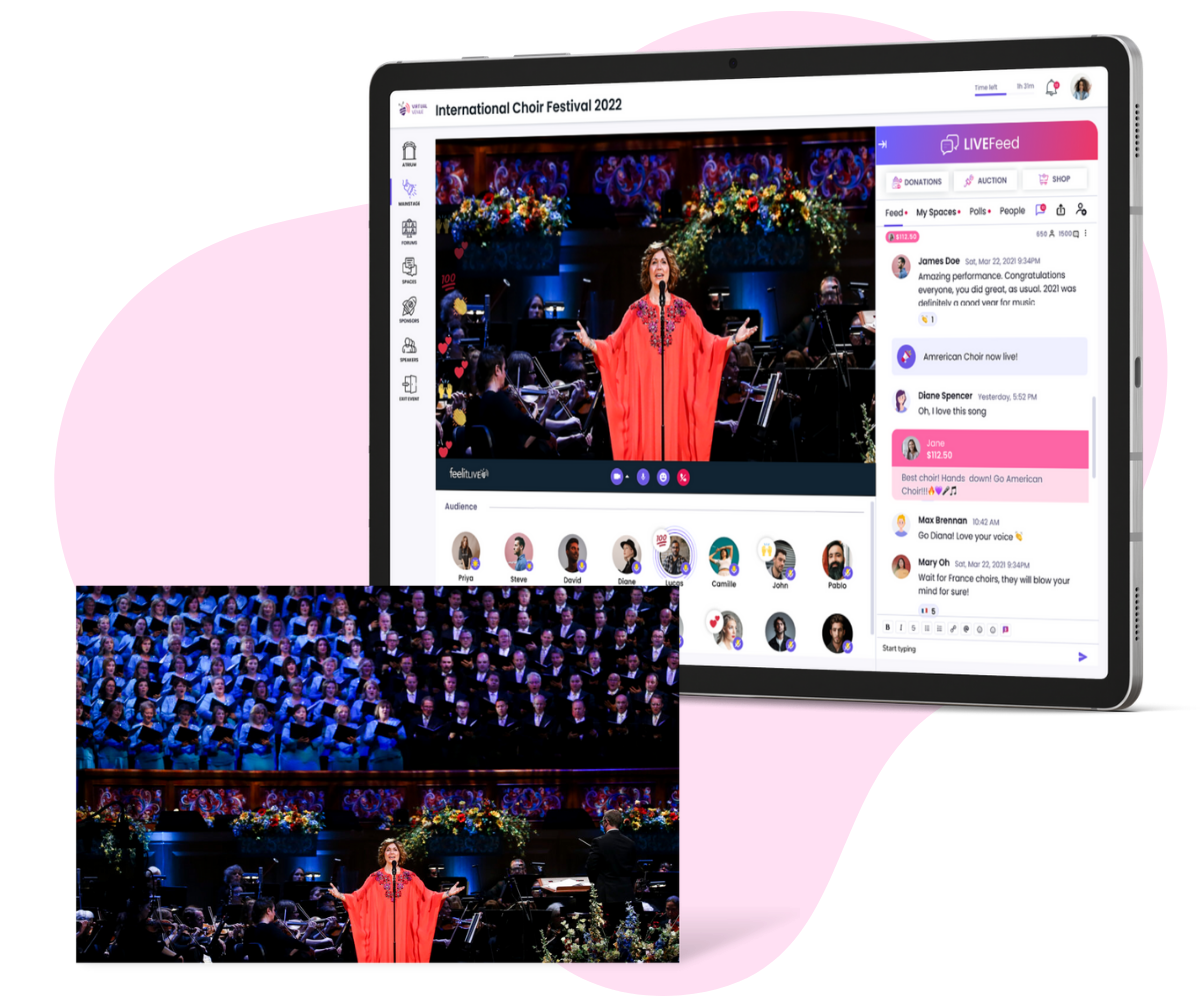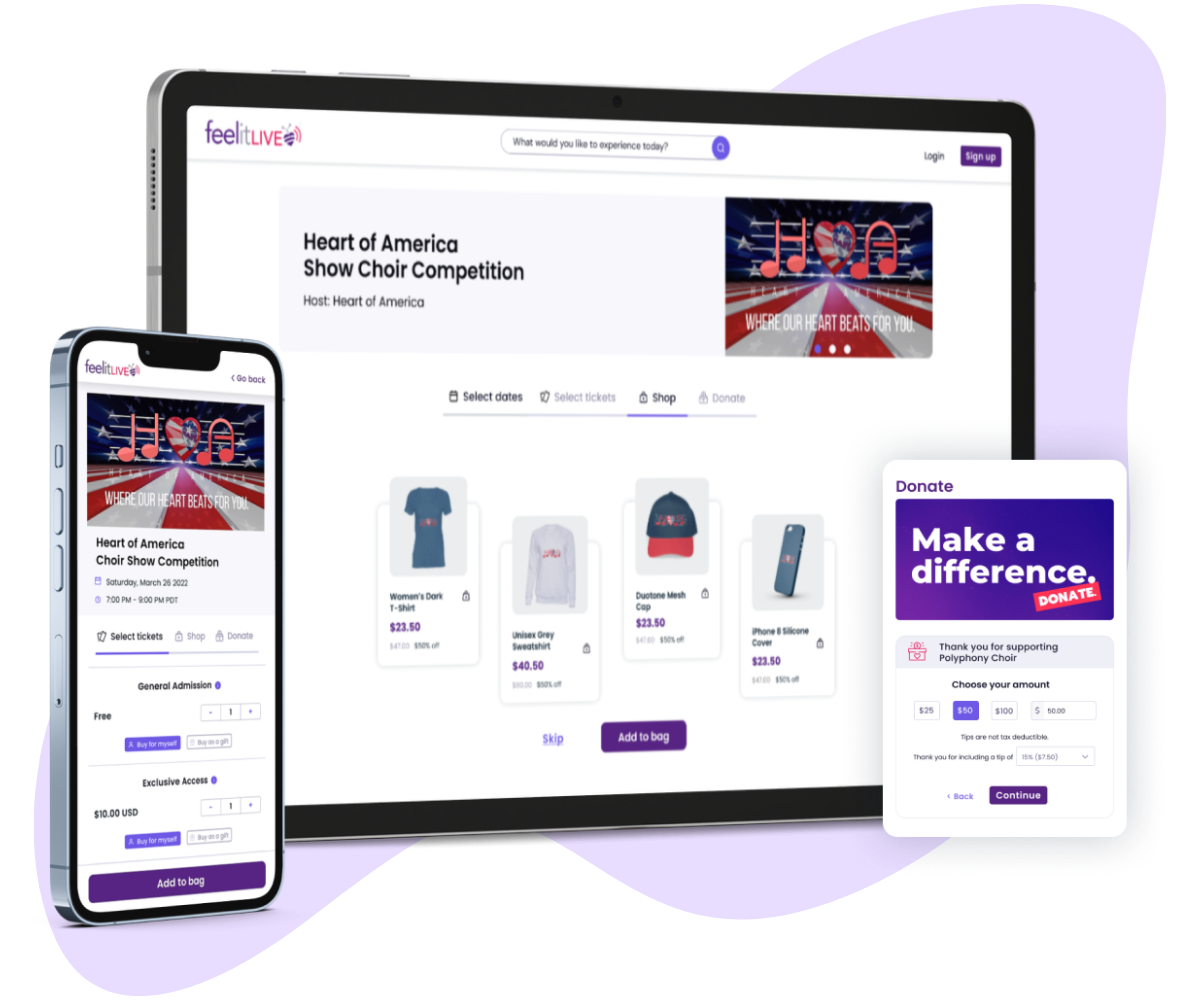 AUGMENTED
Increase your event's revenue
Get past traditional ticketing and open up your choir competition to new ways of making revenue by adding donations and tips, an e-store for merchandise, live auctions, super chats, and more. All managed in one easy-to-use platform
CONECTED
Engage like never before
Enhance your event with interactive engagement tools like live feeds, polls, games, private spaces, and real-time video interactivity to seamlessly bridge your online and real-life communities together.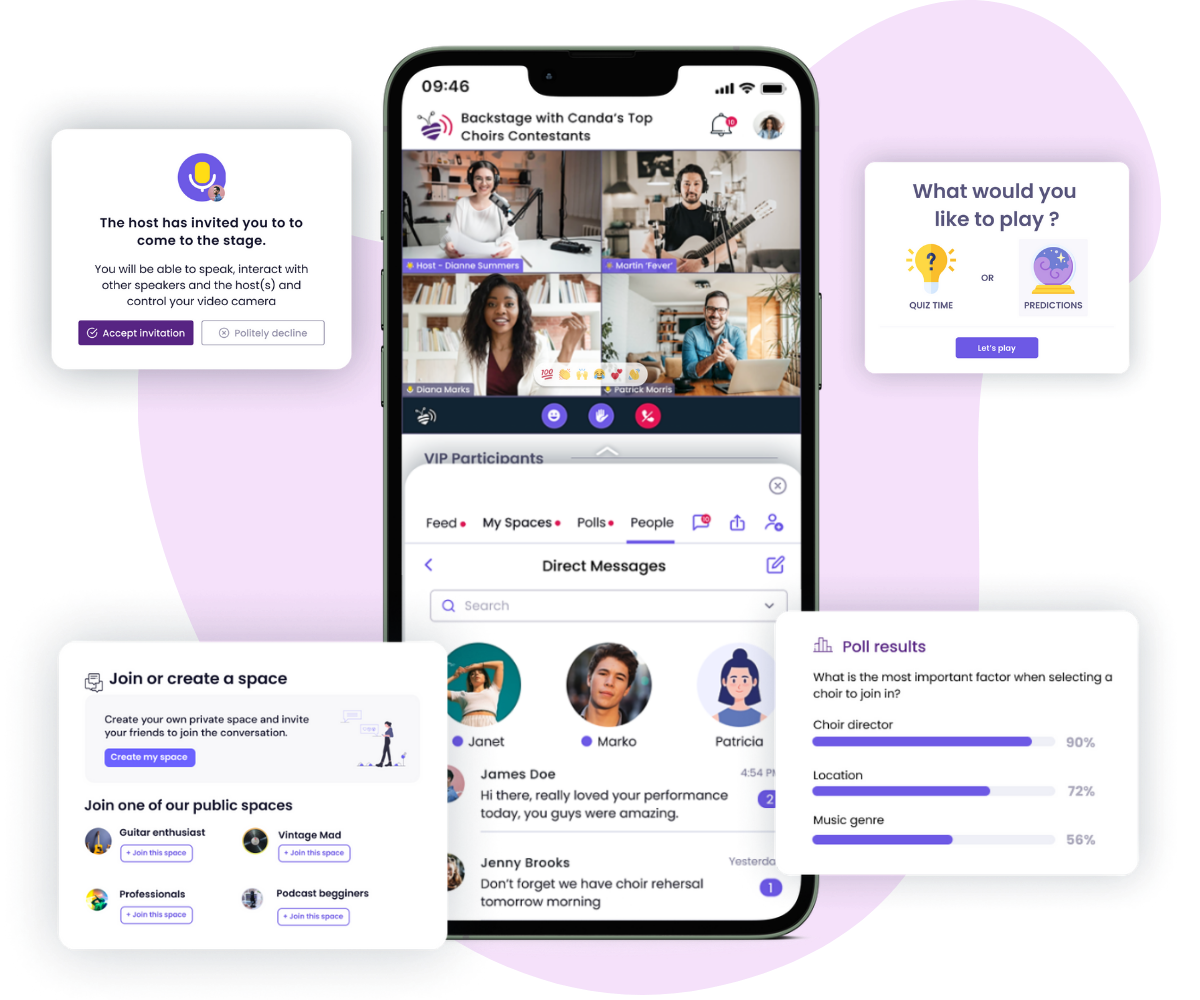 POWERFUL FEATURES
The right tools to make any competition
a total hybrid success
Live feed
Chat with attendees and make announcements without disturbing the flow of the event
Private Spaces
Let attendees create private chat rooms to connect with friends and other attendees
Donations/Tips
Enable your attendees to donate or tips to your preferred cause or organization
Emoji reactions
Let your audience share their real-time reactions to your content.
Polls & games
Use interactive games and polls to gather insights from your audience.
Drop-in video
Empower attendees to video interact with their favorite hosts and contestants
Sponsors
Give your sponsors extra visibility by giving them the opportunity to showcase their brand.
Shop
Let attendees buy your merchandise before, during, and after your competition
Live Auctions
Add fun and excitement to your competition while adding another revenue stream
Audience notifications
Let your customers know about events coming up by emailing them or texting them
Control Center
Control your live stream and broadcast sessions altogether in a single panel.
Real-time analytics
Track ticket and merchandise sales as well as donations and live auction results in real-time.
Plans & pricing
Multiple plans available to suit your needs! We recommend our Pro Plan, which gives you access to advanced functionality to maximize flexibility, monetization, and engagement for your experience. The Pro plan fees are 20% of experience revenue plus payment processing. We do not charge monthly or subscription fees.